UPM understands the importance of microbiological analysis performed in a microbiology laboratory during the development of pharmaceutical products. As a microbiological testing lab, we will work with you to provide not only comprehensive, accurate, and relevant data but also timely and effective solutions to any challenges uncovered during the microbiology lab testing process.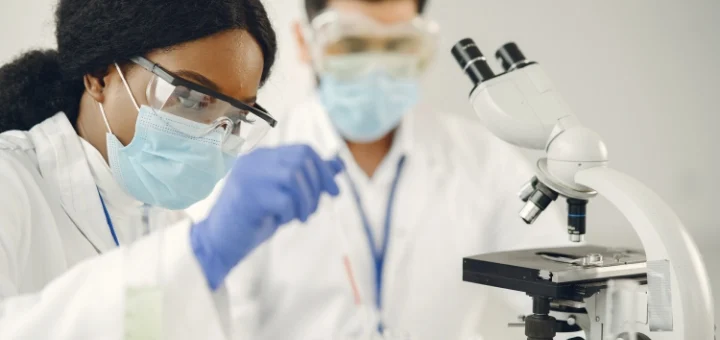 What Is Pharmaceutical Microbiology Lab Testing?
Pharmaceutical microbiology lab testing is a process designed to ensure the safety and effectiveness of any raw materials used in commercial drug manufacturing before they are introduced into the manufacturing environment. This process can include a number of different types of tests and research to provide accurate, reliable results.
UPM Pharmaceuticals Microbiology Testing Lab Capabilities
Whether you need to ensure sterility or determine product effectiveness, UPM is here to help you get your pharmaceutical products to market quickly and safely.
Our microbiological testing lab capabilities include:
Microbial limits testing
Bioburden determination
Contaminant identification
Environmental monitoring and testing
Preservative efficacy
Stability testing
And more!
The Benefits of Partnering With UPM for Microbiology Lab Testing
UPM Pharmaceuticals offers a wide range of custom commercial manufacturing solutions in drug processing. Our experienced team has accumulated the industry-specific knowledge your company requires, combined with our proven processes, to help you through every phase of drug manufacturing and processing — including microbiology testing and quality and regulatory support. UPM will help you reach your goals and quickly and effectively get your pharmaceutical product to market, making any changes when needed to ensure your product stays on the path to success.
UPM Pharmaceuticals' Microbiology Test Lab Facility
Our family-owned, US-based CDMO manufacturing facility includes over 10 acres of state-of-the-art pharma production and microbiology test lab capabilities in Bristol, Tennessee.
UPM offers extensive services to assist you throughout the pharmaceutical-grade manufacturing process from start to finish, including quality and regulatory support services like microbiology lab testing. With over 80 pharmaceutical products brought to market, our experienced team has the expertise to handle your project's requirements. Our large manufacturing facility, pharmaceutical campus, and warehouse are equipped with essential tools and resources for your outsourced pharmaceutical manufacturing needs. With the changing culture of microbiology lab testing, it's imperative to have the latest technology.
Frequently Asked Microbiology Lab Testing Questions
What tests are done in a microbiology lab?
In a pharmaceutical microbiology lab, various tests are conducted to ensure the safety and quality of pharmaceutical products, especially those that are intended for human use. The primary focus is on preventing contamination and ensuring that the products meet the required microbiological standards.
What are four types of specimens that may be tested in a microbiology lab?
In a pharmaceutical microbiology lab, four types of specimens tested are:
Finished pharmaceutical products
Raw materials
Environmental samples
In-process samples
These tests ensure product safety and compliance with microbiological standards.
Why is microbiology testing important in the pharmaceutical industry?
Microbiological testing in the pharmaceutical industry is crucial for product safety, regulatory compliance, quality assurance, contamination control, and ensuring consumer confidence. It validates processes, guarantees product sterility, and determines shelf life, ultimately safeguarding public health and maintaining high-quality standards.
CONTACT US
Microbiological Testing Lab Solutions
You can count on UPM Pharmaceuticals as a pharmaceutical manufacturer partner to help you achieve success. Our clinical microbiology testing lab will provide your company with the testing and research required to ensure the safety of your pharmaceutical product to help you get it to market quickly. Discover how UPM is the best CDMO for your drug production needs. Contact us to find out more or to set up an appointment.
Schedule a Tour