Why Choose Enteric Coating Formulations?
Enteric coating is a specialty polymer applied to oral medication tablets. This, along with selecting the appropriate excipients, ensures that the design of your pharmaceutical formulation is not only a success but cost-effective too. The tablet coating process we use provides a barrier to prevent stomach acids from dissolving drugs immediately after they are swallowed. By helping the drugs maintain their structural integrity, enteric-coated tablets help maintain the drug's intended effect by preventing it from being dissolved in the mouth, esophagus or stomach. The enteric coating creates a controlled release which allows drugs to make it to the small intestine or other stages of digestion before activating, accurately targeting when a medication begins working. The formulation for the tablet-coating process varies depending on if immediate, delayed, sustained release or targeted release is the goal. The most common products featuring an enteric pharmaceutical coating are tablets, mini-tablets, and granule-filled capsule shells.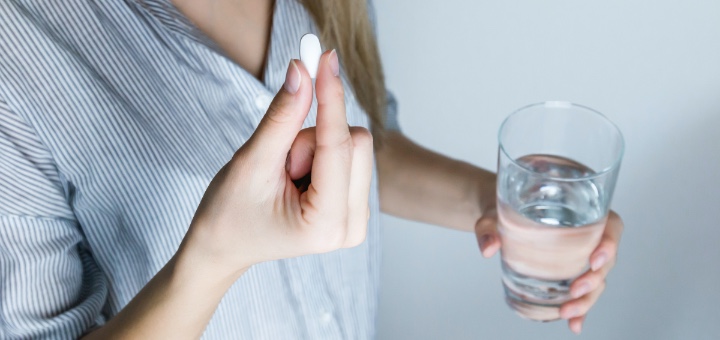 Benefits of Tablet Coating
Pharmaceutical tablet coating serves many purposes, including:
Provides color to establish brand identity
Masks bitter taste or unpleasant odor of medication
Prevents fish-flavored burps from Omega-3 supplements
Supplies barrier so a medicine does not dissolve in the mouth, esophagus or stomach
Increases shelf life of products
Prevent stomach irritation
Our Pharmaceutical Tablet Coating Manufacturing Facility at a Glance
Our tablet coating facility is able to produce hundreds of millions of tablet doses and other pharmaceuticals every year. Our campus includes 475,000 SF of first-in-class research, testing, manufacturing, tablet coating machines and storage facilities. The complex is structured to facilitate success in the production of pharma-grade enteric coating products at any scale.
From formulation and analytical method development to large-scale commercial pharmaceutical manufacturing, we have the talent and expertise to support you at any stage.
Why Choose UPM as Your Coated Tablet Manufacturer?
UPM is a US-based, family-owned CDMO located in Bristol, Tennessee, and an expert coated tablet manufacturer. We specialize in all aspects of the enteric coating process, including the packaging and warehousing of coated tablets.
Our track record of quality and unparalleled customer service sets us apart in the industry. Our Pharmaceutical Coating team works diligently to ensure that your coated products achieve commercial success.
CONTACT US
We Want to Be Your Tablet Coating Partner
From conceptualization to commercial success, we are the enteric-coated tablets manufacturer you can count on. To learn more about our pharmaceutical tablet coating process, contact us today.
Learn More