Our Company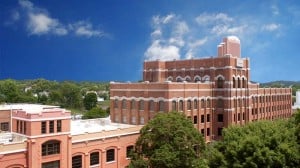 UPM Pharmaceuticals is a Bristol, Tennessee-based independent contract development and manufacturing organization (CDMO) serving the pharmaceutical and biotechnology industries. UPM provides high quality pharmaceutical drug development services that include technology transfer, cGMP manufacturing and packaging, analytical method development and testing from concept through commercialization.
UPM is characterized by its strict sense of quality, timeliness, sound scientific fundamentals, and affordability with which we complete all our projects. Our history includes successful collaborative interactions with small virtual companies to multi-billion dollar organizations, providing them with customized product development services and well thought out scientific solutions. We focus on the development and manufacture of solid oral dosage forms (capsules and tablets) and semi-solid dosage forms (creams and ointments).
Our History
UPM Pharmaceuticals, Inc. originated as a drug formulation and cGMP laboratory within the University of Maryland School of Pharmacy, a recognized leader in industrial pharmaceutical innovation and education. Initially funded by an FDA contract to support the development of the Scale Up & Post Approval Changes (SUPAC) guidelines in the early 1990s, it later became the independent organization of UPM Pharmaceuticals, now a provider of technology transfer, cGMP manufacturing, and analytical services. We continue this legacy of intellectual distinction and uncompromising performance with every new project. The talent and experience of our team, our dedication to science-based formulation design and our commitment to communication and timeliness have enabled us to offer the highest level of customized drug development services to our clients, from concept through commercialization.
Our Mission
UPM Pharmaceutical's mission is to advance Client formulation development efforts to the fullest extent possible with the ultimate goal of commercialization, all while adhering to strict standards of quality, timeliness, scientific fundamentals, and affordability.